Aptek Laboratories, Inc., established in 1986, is a designer and manufacturer of custom-formulated adhesives, coatings, paints, encapsulants, and specialty films/substrates for the aerospace, military, RF/microwave, optoelectronic, high-end electrical/electronic, and oil exploration Industries.
Aptek Laboratories, Inc. resides in a modern 23,000-square foot R&D/Manufacturing facility located in an upscale industrial center in Valencia, California. Built to Aptek's design and tight specifications for temperature, humidity, and environmental controls, this building provides Aptek with enhanced capability and size to efficiently develop and manufacture high quality products to meet the industry's current and future demands.
Aptek's success has come through long-term relationships with key customers such as Boeing Satellite Systems, Raytheon Company, Northrop Grumman, Lockheed Martin, Honeywell, Moog, Cianna/Merit Medical and many other companies that order Aptek products on a regular basis.  In order to support the requirements and highly technical demands of these customers, Aptek devotes a major portion of its resources to research and development, product modification, customer/technical service, quality assurance, sophisticated state-of-the-art testing equipment, and high-quality manufacturing equipment.  Although Aptek has historically targeted high-tech aerospace and military applications, this same focused philosophy/commitment and expertise is currently applied to the high-end commercial markets as well.
QUALITY POLICY
APTEK LABORATORIES, INC. IS COMMITTED
TO CUSTOMER SATISFACTION,
COMPLIANCE WITH REQUIREMENTS,
AND CONTINUAL IMPROVEMENT
OF THE QUALITY MANAGEMENT SYSTEM.
Customer and industry demands drive Aptek to develop unique, highly reliable polymeric products to meet the stringent requirements for difficult applications in challenging environments ranging from Mars to a mile below the earth's surface…and everywhere in between!
Some key products developed by Aptek over the years are as follows:
• UVIKOTE™ family of UV-curable conformal coatings/encapsulates/staking compounds. This family of products is QPL-listed to MIL-I-46058C.  In addition, these products meet NASA outgassing requirements for space vehicle use.
• Conventional heat-curing conformal coatings. These coatings are also QPL-listed to MIL-I-46048C and meet NASA outgassing requirements. One coating is jet-fuel-resistant for military missile applications.
• DIS-A-PASTE  LINE of low modulus, field-proven, thermally conductive adhesives/encapsulants. These products address thermal and stress management issues when bonding dissimilar substrates for heat-generating devices/components exposed to wide temperature cycles.
• Aptek's B/C/B  unique low modulus film adhesive technology. This technology has proven to be very successful in resolving stress management problems when bonding large areas of dissimilar substrates for many military applications.
• Specialty white and black ESD, low outgassing paints. These specialty paints are designed to meet the rigors of outer space applications.
• Specialty encapsulants for IR-LED light laser medical applications. In these products, visible light is completely blocked, and transmission is delayed until 740 nm and maximizes about 800 nm.
• High-temp resistant, tough epoxy encapsulant. This encapsulant is designed for motor stators used for down-hole, oil exploration drilling equipment.
For more information on Aptek's high performance polymer systems, please see Aptek's website at www.apteklabs.com or contact us at 661-257-1677.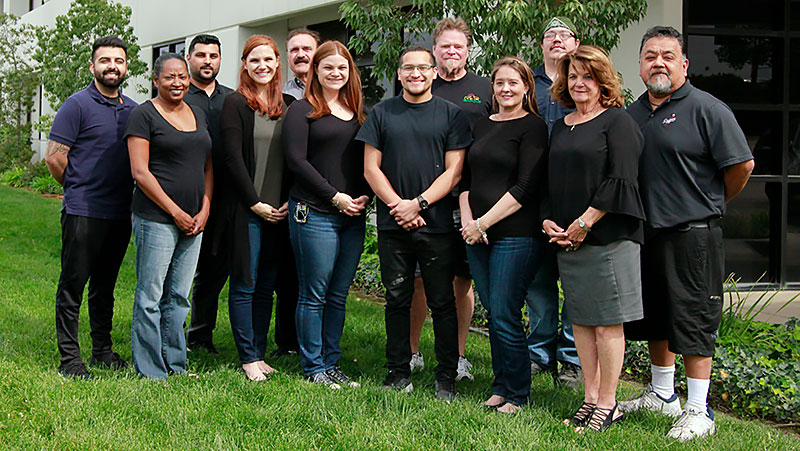 A-P-T-E-K-I-A-N
A special breed of people who –
• Aim high
• Produce quality items
• Take initiative
• Exude enthusiasm
• Know the value of teamwork
• Inspire creativity
• Aspire to greatness
• Never, never, never give up!